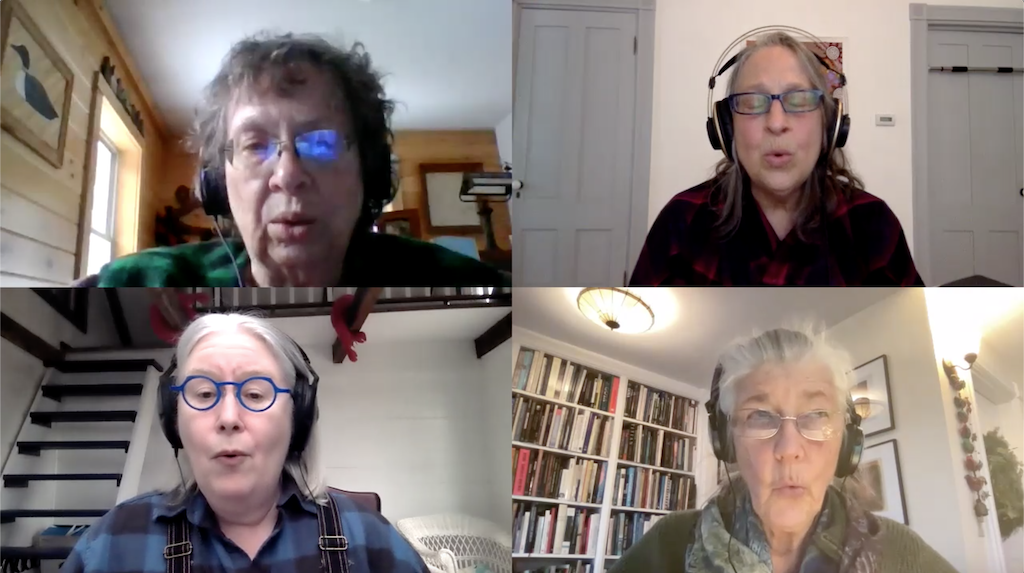 Spring classes for 3 or 4 singers to sing together on Zoom—live singing, no muting or prerecording.
Have you been missing singing with other people?
Have you been frustrated with trying to sing in a virtual choir?
Are muted Zoom chorus rehearsals not quite enough?
Sing together on Zoom with 2 or 3 other singers, guided by Anna Dembska.
You'll be able to hear each other and sing together in real time.
Hone your skills in listening, tuning, and holding your own part.
Warmups & music specifically created for musical pleasure and fulfillment within Zoom's audio limitations.
Here's an example of one kind of Zoom music, with text from the Tao Te Ching. Because of latency (delay) on Zoom, visual cues (like conducting) don't work; singers get their cues by listening to what the other singers are doing:
The Three Treasures

All under heaven say my Way is improbably great,
 But if it were not great, not improbable,
it would be petty, it would be small,
 it would not be the Way.

I have three treasures.
 I keep them, I treasure them, three treasures:
 mercy, contentment, humbleness.
 Only the merciful can be brave.
 Only the content can be generous.
 Only the humble can lead.
a singer says:
". . .a haunting blending of voices and harmonies. The sound is unusual, but it has been very exciting and satisfying for us singers to be able truly to make music together in this otherwise alienating time."
read more about the singers' experiences. . .
Meeting Times
Groups will meet for one hour a week for six weeks, beginning as soon as we get each group together. Class dates and times TBD with participants. We'll have as many groups/classes as there is interest for. If you want, gather a few of your singing friends to form a group/class together.
Tuition
Sliding scale from $0–$90—you decide what you can afford.
Equipment You'll Need
a Zoom account
a computer with headphone jack and a mic (or an external mic you can plug in)
headphones (earbuds may work in a pinch)
For more info about Zoom singing groups/classes, please contact Anna through the form below:
We've been experimenting with Zoom singing and working out bugs since last fall. Here's what the pioneer singers have to say:
Three of us have been singing weekly with Anna for the past few months. It has been a wonderful experience. Anna has managed to find Zoom settings that allow a handful of voices to sing together, harmonize, and hear each other. There is still a little lag, and the audio is imperfect, to be sure. But Anna has gotten around the imperfections with musical choices and arrangements that make use of and highlight, rather than ignore, some of the oddities of Zoom singing. The result has been a haunting blending of voices and harmonies. The sound is unusual, but it has been very exciting and satisfying for us singers to be able truly to make music together in this otherwise alienating time.
–Laurie
I look forward eagerly to our weekly trio Zoom sessions with Anna. Making music together safely is a most welcome, cleansing, uplifting time which also strengthens connections with old musical friends.
Because we three can hear each other and because of the adaptations Anna has scored, my listening and tuning skills are improving. Anna's music demands focused concentration which benefits my aging brain. For me, small group practice has been very beneficial and with Zoom, available year round, far and wide.
–Kris
Back in October some singers got together with Anna to experiment with singing via Zoom. It was an amusing experience as we tried to make it work. Finally, three of us remained to practice the work arranged by Anna. It is a very interesting piece, unlike anything we had sung before, and has proven to be really enjoyable. It required focusing and listening like never before! I know that I have grown musically as a result of our time together and look forward to our weekly practices. Working in a small group really helps us hear each part more clearly and improve in being able to better blend our voices. When singing in a large chorus, I can rely on my neighbors but now I have to rely on myself (with help from Anna when I miss) to sing and blend with the others. I love learning music this way, and while "in person" would be even more rewarding, this is a great substitute.
–Christina