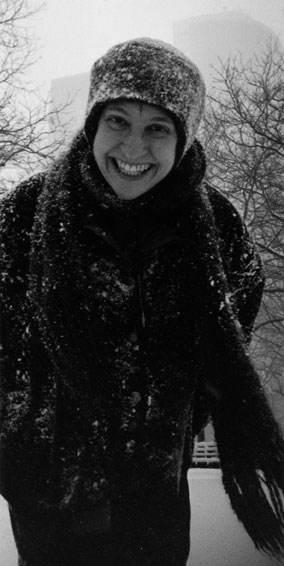 Composer/soprano Anna Dembska has produced and performed her music theater works, operas, and concert music since 1976—from the puppet opera Enough Is Enough at the Bread and Puppet Circus to Coyote at Bang-on-a-Can at Alice Tully Hall, Lincoln Center. Her immersion in taiji and qigong for the past decade strongly influences her present work. Lately she's been creating music for singing together on Zoom from different locations. Her in-progress Songs from the Tao Te Ching, commissioned by Schoodic Arts for All with support from a 2021 Choral Arts New England Alfred Nash Patterson grant, explore this way of making music together. The music sets texts from the Tao Te Ching—and Anna and her Zoom singers are discovering that it cultivates Taoist methods and attitudes in both composing and performing: spontaneity, responsiveness while staying rooted in oneself, openness to continuous change, and effortlessly aligning our actions with that natural ebb and flow.
Dembska has been awarded multiple composition and performance grants from Meet the Composer, The Puffin Foundation, and ASCAP, as well as grants from The LEF Foundation, Bronx Council for the Arts, New Dramatists, the Fresno Regional Foundation, Arts Visalia, and the Open Meadows/Patsy-Lu Fund. Her opera collaboration with poet/librettist Beatrix Gates, The Singing Bridge, was commissioned and produced by Opera House Arts in Stonington, Maine through a Meet the Composer/National Endowment for the Arts Commissioning Music/USA grant.
Sound art installations include Conch, a collaboration with visual artist Bachrun Lomele that toured galleries and flea markets in California, Nevada, Tennessee, Texas, and UAMO Festival/Munich's International City Tour; Hatchery Weather and Sound Station, presented at the East of Fresno group exhibition and catalogue at Hatchery Art Spaces in Badger, California; and Sound Garden, an in-progress collaboration with plants and weather, using sensors, digital technology, and shamanic techniques to engage directly with non-human beings as co-improvisers.
After many years of splitting her time between New York City and Downeast Maine, Dembska moved to Maine full time in 2009. In Maine, recent projects include Music of a New Frequency, an improvising vocal duo with vocalist Andrea Goodman; composer/performer in Susan Bickford's [Stillness], a multiple-year shifting site-specific performance event at Joseph Fiore Arts Center and the reversing falls on the Sheepscot River; duetting with Thomas Buckner at The Cannery contemporary music/art space in Penobscot; soprano in the chamber ensemble Smokin' Baroque and in Figures of Speech Theater's production of David Lang's Little Match Girl Passion; and directing and singing in a concert of vocal music by composer Maia Aprahamian for the Bagaduce Music Library in Blue Hill. In June, she'll be directing and singing in a program of music for voices by Maine composers, including her own new work, in the Bagaduce Music Library's summer concert series.
Highlights of her work in New York City include her solo opera The Juniper Tree, performed at Henry Street Settlement to critical acclaim, and her opera To Music at Dixon Place and on CUNY TV. She created the role of Mary Burton in Leroy Jenkins' The Negros Burial Ground at The Kitchen, composed the choral music for Lee Nagrin's The Valley of Iao at La Mama E.T.C., taught at NYU's Experimental Theater Wing, and was an artist-in-residence with the Metropolitan Opera Guild's in-school program and national teacher training. She is a featured singer on Gamelon Son of Lion's CD Sonogram, and her Kore Chant and A Circle Is Cast, recorded by Libana, have been performed by choruses all over the world.
Anna directs the Schoodic Summer Chorus, an a cappella community chorus in Winter Harbor, Maine; teaches voice, creative musicianship, and taiji and qigong in coastal Maine; and is co-author, with pianist Joan Harkness, of You've Got Rhythm: Read Music Better by Feeling the Beat and Piano, Body and Soul: An Innovative Method for Older Beginners.