Anna Dembska offers year-round outdoor classes in taiji and qigong at the amphitheater of the Camden Public Library, Camden, Maine. This winter and spring, classes are noon to 1 pm on Tuesdays and Thursdays, weather permitting!
For more information, and to get on her taiji email list for updates on classes, changes, cancellations, and resources, please sign up below: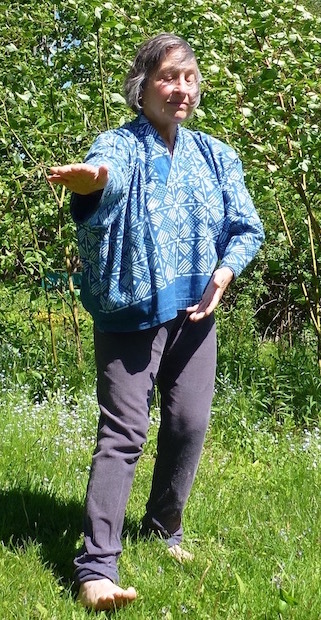 Anna Dembska's Taiji Bio
Anna dipped her toes into taiji in her 20s at an open class in a Los Angeles park. After a long hiatus, she began playing this "soft" martial art again in 2011 when recovering from a broken leg. Her leg quickly healed, but taiji offered more, and she's been enjoying its benefits and mysteries ever since. She studies taiji and qigong with Mike Shunney in Rockland, Maine, and with Zhong Xuechao (Master Bing) from Wudang Mountain, China. She has also studied San Shou two-person play with Dr. Jay Dunbar and Kathleen Cusick, and Yang Family tai chi with Grandmaster Yang Jun, and she's a certified trainer in Yang Family tai chi. She's been teaching taiji since 2019, and her teaching is informed by her extensive experience in singing and teaching voice, with which taiji shares many principles and practices.